The "Bolivia Lithium Resources Comprehensive Development and Utilization Seminar," a foreign aid training project sponsored by the Ministry of Commerce and carried out by the Ministry of Commerce International Business Official Training Institute, was held in ISL from June 29 to July 3, in an effort to strengthen international cooperation and exchanges with Bolivia in the field of lithium resources. There have been a variety of training and exchange activities, including special seminars, on-site visits, and lectures. More than 20 people attended the event, including representatives from the Bolivian Ministry of Oil, Gas, and Energy, the provincial administration of Oruro, and technical executives from the Yacimientos de Litio Bolivianos Company (YLB).
The Director of ISL, Wu Zhijian, gave the Bolivian trainees a hearty welcome at the opening ceremony and hoped that the two parties would take advantage of the occasion to further their communication and cooperation in order to jointly advance the sustainable and high-quality growth of the international lithium industry. During the training, experts from ISL gave special lectures on the development process and current situation of the salt lake resources in China, the introduction of ISL, the theory of salt lake resources into salt mineralization, salt lake resource exploration technology, and the development and utilization technology of potassium, lithium, magnesium, boron and other resources in salt lake.
ISL deputy director Wang Jianping expressed her hope that the two parties will strengthen their relationship and collaborate for the full utilization of the world's salt lake lithium resources. She also discussed the Key Laboratory of Green and High-Value Utilization of Salt Lake Resources' construction, talent introduction, international cooperation, and other related initiatives at the same time. She also had in-depth discussions about lithium resource development and utilization with Bolivian participants, coming to numerous agreements and expressing her intentions to cooperate.
The majority of the world's lithium resources are found in South America's lithium triangle, where Bolivia's resources rank first globally and the conditions for the growth of the lithium sector are good. ISL has a long history of fully utilizing and developing lithium deposits, and it leads the globe in terms of technical sophistication. Meanwhile, ISL has worked with appropriate Chinese-funded businesses to conduct site investigations and pilot tests at Bolivia's largest salt lake, and achieved positive results.
The seminar deeply focused on the theme of the development and utilization of lithium resources in salt lake, which effectively enhanced the understanding between the two sides, brought new opportunities for the next cooperation, and helped the construction of the Key Laboratory of Green and High-value Utilization of Salt Lake Resources.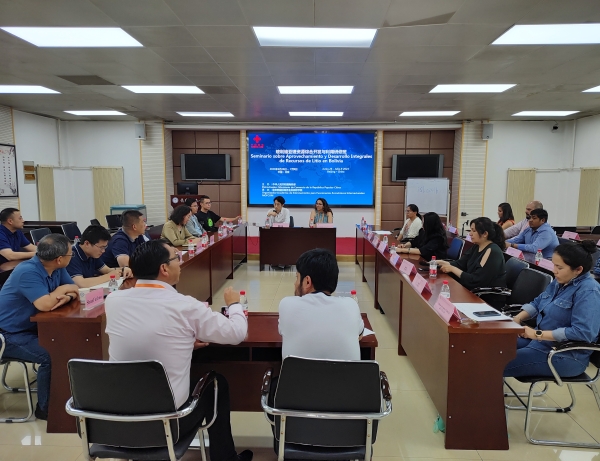 Discussion and discussion site
Visit the experimental platform