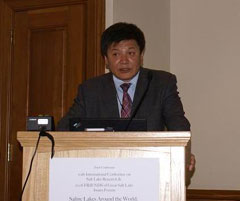 During May 10th to May 17th 2008, Director Haizhou Ma and other ISl scientists attended the 10th International Conference on Salt Lake Research, held in Salt Lake City, USA. In the conference, ISL scientists addressed on several issues, including the development of magnesium resources of Qinghai salt lakes and salt lake geology in Qaidam Basin. Also, ISL submitted an application to the organization committee for hosting the next salt lake symposium in China and made a formal address on that.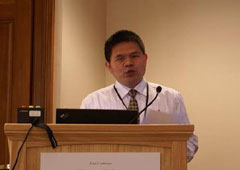 The international salt lake symposium is held every 3 years. Approximately 100 scientists from dozens of countries attended the 10th meeting. The main theme of this symposium was salt lake ecological systems, covering a number of important issues, including development and utilization of salt lake resources, salt lake geology, salt lake ecology and environment, etc. The ISL representatives actively participated in the discussions. Their strong involvement had helped establish new relations with scientists from USA, Australia, Germany, Chile, etc. Meanwhile,
pervious cooperative relations with foreign scientists were also resumed.
During the conference, Director Haizhou Ma presented a report on "Development and Utilization of Brine with High Quality Bischofite and Other Elements after Extraction of Potassium from a Salt Lake in China"; Research Professor Dr. Zhongping Lai reported on "Reconstruction of the Geological Age of Qaidam Basin based on 1000 meters Drilling".