Qinghai Science and Technology Department organized a meeting to appraise and accept the provincial key project of Study on a Clean Process for Producing Metal Magnesium from Salt Lake Magnesium Chloride, in mid-March, 2010. Experts deemed the project, which was undertaken by ISL, to have fulfilled all specifications set forth in the contract, on the basis of the final representation,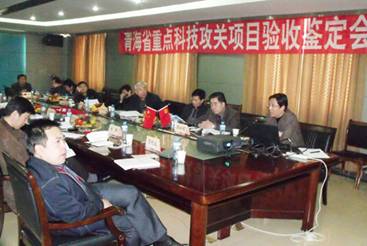 (Project presentation at the appraisal and acceptance conference)
project documents and in-depth questioning and discussion, whereby the project was accepted with the achievement rated in an internationally leading position.
The world's production of metal magnesium currently adopts two methods: the Pidgeon process and the electrolytic process. As the Pidgeon process features a number of advantages including smaller investment, lower cost, shorter construction span and easier control, it has become the globally dominant method, which is adopted by all Chinese magnesium producers. In contrast, the electrolytic method entails the utilization of anhydrous magnesium chloride as its feed stock, the preparation of which involves knocking off the crystalline water in bischofite at harsh operating conditions, resulting in severe corrosion. Extended studies on resolving this issue have been conducted for years in China, but no industrial application of the electrolytic process has been witnessed so far.
Qinghai Province is known for its huge deposits of magnesium chloride resources. ISL strives to boost the development of novel processes for producing metal magnesium using salt lake magnesium chloride resources. The institute initiated the key provincial project of Study on a Clean Process for Producing Metal Magnesium from Salt Lake Magnesium Chloride in 2008. The project involved preparing the lightest structural metal–magnesium, which has a much promising outlook of applications, using salt lake magnesium chloride and industrial by-product lime, whereby a novel proprietary process has been developed and consolidated by one patent grant and another pending application.
The method circumvents the huge emission of gaseous pollutants such as carbon dioxide and sulfur oxides characteristic of conventional Pidgeon process, by synthesizing its intermediate raw material calcined dolomite. Thus, clean production of metal magnesium by the improved Pidgeon process can truly be realized. Besides, the calcination temperature for calcined dolomite has been greatly lowered and the reduction time substantially shortened, thereby meeting the mechanism of the circular and low carbon economy. The process can produce magnesium ingots meeting the (GB/T3499-2003) Mg9995 standard, as well as 99.99% high-purity magnesium.
The technological breakthrough may lead to industrialization in a considerably short term, which would significantly boost the production of metal magnesium and its alloys using salt lake bischofite resources.