China-Laos Minerals Development and Investment Corporation (CLMDI), which is controlled by Yuntianhua Group Inc, held a signing ceremony among its shareholders in Kunming to complete an expansion in capital and shares on January 29th. Representatives from Yuntianhua, Yunnan Investment Holding Group Inc, Yunnan Geological and Minerals Group Inc and ISL attended the ceremony and signed on the expansion agreement. Several issues including an amendment to the Charter of CLMDI were examined and passed.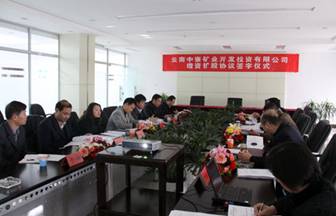 (CLMDI's capital and shares expansion signing ceremony)
ISL comes to hold 8.47% of shares in the company in the form of technology through the expansion. This is a milestone for ISL in its extended cooperation with Yuntianhua in developing Laotian potassium resources, in the context of the ISL endeavor of promoting innovation and technological transfer oriented for national strategic and corporate development needs.
The world potassium resources are largely subsurface solid mineral deposits. Surficial and near-surface potassium only take a small portion. Solid potash mines are highly concentrated in the northern hemisphere, i.e., Europe and North America, in which Russia and Canada take 81.3% of the world's total. Almost all overseas large potash mines are ancient potash evaporites dated to pre-quaternary periods. China is deficient in potassium resources, which severely hinders the development of its potash production. With the recent completion of a one million tpa potash works at Lake Qarhan, the country was able to yield 3 million tpa potash for its domestic use. However, its potash demand for agriculture is still heavily reliant on importation, which may become a major threat to its fast developing national economy and long-term strategic needs.
Abundant potash resources have been found in China's neighboring countries, including Laos and Thailand. Sylvite proven reserves of 292 million tons were discovered in the Vientiane Plain, while prospective reserves of 13.36 billion tons are forecasted. The Lao potash deposits are only in a low level of exploration. Therefore, the reserves will substantially increase with the deepening exploration.
China and Laos are close neighbors with sound bilateral relations. China signed the Agreement of Mining and Extraction of Potash Deposits in the Vientiane Basin with Laos through CLMDI in November 2004, under the supervision of Premier Wen Jiabao, through which the Chinese company acquired investment and mining permits from the Lao government. The Lao potash deposits are mainly of carnallite, coexisting with sylvinite. The whole mine features predominant amount of potassium resources, while magnesium, bromine and sodium can be recovered as by-products, hence huge development potential. Notwithstanding this, the Lao government attaches great importance to environmental protection in the development of its potash resources. Therefore, the exploitation is not supposed to simply adopt conventional process routes.
ISL is the only Chinese national institute that specializes in salt lake resources and environmental sciences and comprehensive utilization of salt resources. In accordance with CAS's new development strategies, the institute is actively cooperating with enterprises exploiting domestic and overseas salt resources. In particular, it is collaborating with Yuntianhua Group developing Laotian potash and other salt resources, based on its decades of expertise and recent project experience in the successful development of Mengyejing (Jangcheng, Yunnan) sylvinite deposit, which is the only ancient solid potash deposit found in China to date. ISL and Yuntianhua co-established the Research Center of Salt Resources Exploration and Comprehensive Utilization Engineering in September 2007, on the basis of mutual benefits and preliminary collaborations. The center adopts innovative development strategies in both motivating systems and research, aiming at developing a whole set of technologies and processes with independent intellectual rights, promoting the evolution of conventional technologies and technical transfer, and boosting the development of Lao potash industry.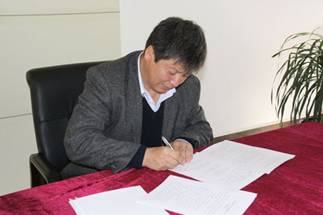 (ISL Director Ma Haizhou signing on the agreement)
ISL had finished the supplementary exploration of CLMDI's potash deposit at the Thongmang (Vientiane, Laos) ore block, resulting in a sylvite reserve of 193 million tons. The institute has fulfilled optimization tests of the Vientiane potash ores treatment process, acquired design parameters for the potassium chloride production process, and designed the 50,000 tpa KCl industrial test facilities, in cooperation with Yuntianhua. It also assisted a design company contracted with CLMDI in the construction designing of the facilities. Meanwhile, ISL scientists have performed technological studies on the assorted technologies of refilling salt tailings and MgCl2 from KCl production and MgCl2, and preparing magnesium cement from MgCl2. All these efforts have formed a solid basis for CLMDI to develop potash resources in Laos.
The 50,000 tpa KCl test facilities and the supporting 650,000 tpa carnallite mining project were initiated at Thongmang Village, Vientiane, Laos, in December 2008, and estimated to be completed and commissioned in late 2010.