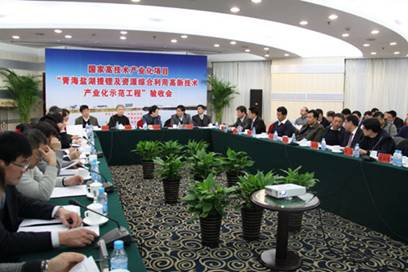 (Discussion in Progress)
The event marks the successful industrialization of China's lithium extraction technology with respect to high Mg/Li salt lakes and an important move in the comprehensive exploitation of Qinghai salt lake resources.
The Project has been co-supervised by CAS and Qinghai Commission of Development and Reform, executed by Qinghai Lithium, and technologically assisted by ISL.
For many years, ISL scientists have been engaged in persistent efforts in addressing the issues of extracting lithium from salt lake brines with high Mg/Li ratios and comprehensive utilization of other evaporative resources, whereby a unique process route for extracting lithium from such brines and well-assorted production processes and technologies for comprehensive utilization of the other resources have been developed, implemented and successfully industrialized, with proprietary intellectual property rights (IPR) and tailored specific to China's high Mg/Li salt lake brines.
Various supervisors from CAS, China Democratic National Construction Association (CDNCA), Qinghai Goverments, National Development and Reform Commission (NDRC) attended the conference, including, CAS Secretary General LI Zhigang, CDNCA Deputy Chairman MA Peihua, Vice Governor of Qinghai Provincial Government XU Fanshun, etc. KONG Li, secretary of CAS Bureau of Planning & Finance, chaired the meeting.
Mr. LI Zengrong, president of Qinghai Lithium Co Ltd gave a presentation of the status of the Project first. CAS Member LI Hongzhong from IPECAS, on behalf of the process and equipment group, Departmental Head YIN Ming from CAS Bureau of Capital Construction, on behalf of the construction and installation engineering group, Director ZHAO Guohua, senior accountant from CAS Bureau of Capital Construction, on behalf of the financial group, and Research Librarian PAN Ya'nan from CAS General Office, on behalf of the documentation group, delivered the remarks of their respective groups.
Based on extensive discussions, the acceptance committee attained the resolution of final acceptance with unanimous consents.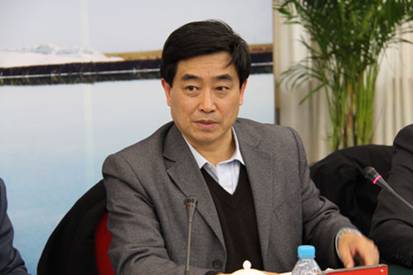 (LI Zhigang, Member of CAS Presidium and Secretary General)
It is noted that the undertakers of the Project have done extended research on the integrated production processes for the comprehensive utilization of lithium, potassium and boron resources according to the resource features of East Taijinar Salt Lake, whereby solar ponds of 4 km2 and production facilities of 3,000 tpa lithium carbonate, 25,000 tpa potassium sulfate and 2,500 tpa boric acid have been built. The operation of the plants has attained reliable engineering data for the Project. Meantime, qualified products are being produced and sold to various markets.
The execution of the Project has developed a novel process of extracting lithium from salt lake brines with high Mg/Li ratios, with independent IPR, and built demonstrating facilities operating at nominal capacity. A series of key technologies in solar concentration of lithium, Mg/Li fractionation from the bitterns, liquid-solid separation in the production of lithium carbonate and scale-up of extraction facilities have been formed through systematic studies. The lithium extraction process features higher product quality, lower costs, and greener operation. The core technology of Mg/Li separation from salt lake brines of high Mg/Li ratios is recognized as original, hence highly competitive in a global perspective.
The committee comments that the Project has fulfilled all construction tasks and built a complete set of production facilities of lithium extraction and integrated utilization of other evaporites. The completion of the Project is a remarkable progress in the exploration and exploitation of China national salt lake resources. It is significant for the boom of China national lithium industry. The comprehensive and sustainable development of the resources will hence become practical. Also, it is demonstrative for the extraction lithium from salt lake brines of high Mg/Li contents, domestically and globally.
LI Zhigang expresses that serving regional economic and social developments is a commitment of CAS during its implementation of the Knowledge Innovation Program (KIP). The initiation of the Project had been based on Qinghai's abundant salt lake resources, ISL's decades of expertise, and consolidated national support. This breakthrough in the industrialization of developing salt lake resources is an incarnation of CAS's persistent efforts in boosting Qinghai's economic and social development.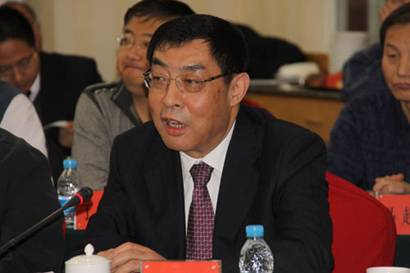 (MA Peihua, Deputy Chairman of CDNCA Central Committee)
The initiation and execution of the Project have received close attention, strong support and consolidated supervision from NDRC and Qinghai Provincial Committee and Provincial Government (QPCPG). Researchers and Constructers from ISL and Qinghai Lithium have been persistently working with difficulty at the site, which has ensured the success of the Project.
Li Zhigang expresses that the success of an industrialization project not only needs technological inventions of scientists but also entails good cooperation with enterprises, in terms of introducing capital, management and marketing. ISL has merits in that it has demonstrated that CAS institutes can fulfill the industrialization of their technological inventions by meeting national strategic needs and the overall interests of national development, based on implementing their own technologies and introducing social funds and management.
LI Zhigang emphasizes that the two Xining based CAS institutes persist in in-depth implementation of KIP, with further focus on national and regional strategic needs, contributing to national and regional economic and social development. He requests that related CAS departments and branches allocate sufficient resources to render new contribution to the developments of the Experimental Zones of Qaidam Circular Economy and Qinghai Province.
MA Peihua convinces the audience that the Project has ever been receiving supports from NDRC, CAS, QPCPG, ISL and Western Mining Group. Based on extended efforts of researchers from ISL and constructers from Qinghai Lithium in the desolated and uninhabited site at the salt lake, the Project was able to succeed and operate in a good fashion. In this sense, the fruits should be attributed to both Qinghai Province and CAS. He fully understands that the real success of a technology must be on the basis of meeting national strategic needs, in close combination with local economic development, and sustain market tests.
Xu Fushun expresses that the passage of the Project is a milestone in the exploitation of Qinghai salt lake resources. He comments that Qaidam has various abundant natural resources spreading all over an enormous basin, which has won title of "Cornucopia".
(XU Fushun, Member of the Standing Committee of the CPC Qinghai Provincial Committee and Vice Governor of Qinghai Provincial Government)
Qinghai features affluent mineral resources, thus, industrialization in a new manner and boosting the development of a circular economy is a strategic choice for promoting the transformation of Qinghai's economic development and improving the quality and efficiency. He acknowledges the endeavors and sacrifice of ISL's researchers and desires such spirits be remarkably promoted in the science community.
Xu Fushun stresses that the success of the Project further exemplifies that research should be oriented for economic development and market. He says that large enterprises should take the lead in R&D of technology by establishing research centers and investing in promoting the conversion of technological achievements into real productivity.
Highlights — News adapted and reproduced from Qinghai Satellite TV: