Recently, the top international hydrology journal "Journal of Hydrology" published an online article titled "Deep hydrothermal and shallow groundwater borne lithium and boron loadings to a mega brine lake in Qinghai Tibet Plateau based on multi-tracer models". Associate Professor Kong Fancui, Professor Wang Jianping of Qinghai Salt Lake Institute, and Associate Professor Luo Xin from the University of Hong Kong are the co-corresponding author of this achievement, and ISL is the first author of the paper.
"Journal of Hydrology" is a well-known journal in the field of international water resources research. It is one of the oldest and most influential international journals in the field of hydrology. It is highly valued by scientists in hydrology and related fields in various countries. The journal focuses on all sub-disciplines of water resources research, including physics, chemistry, biogeochemistry, surface and ground hydrogeography, hydrometeorology, hydrogeology and other related disciplines. It is now the Top of JCR Q1 District, with IF=4.5 in 2019.
This research result is the first important achievement of the second Qinghai-Tibet Plateau Comprehensive Scientific Investigation Project (No 2019QZKK0805) undertaken by ISL in 2019, focusing on the hydrological cycle and resource element tracing and quantification of the salt lake in the Qaidam Basin. The Dachaidan Salt Lake is located in the northern part of the Qaidam Basin on the Qinghai-Tibet Plateau. The content of boron and lithium resources ranks first among all salt lakes in the Qaidam Basin. Lithium and boron in Dachaidan Salt Lake are believed to be mainly derived from surface water and groundwater, but the discharge flux of deep hydrothermal fluid and shallow groundwater and the carried boron-lithium flux are still unknown. This research is the first attempt to establish a multi-tracer model coupled with a radium isotope mass balance model to quantify the discharge flux of deep hydrothermal fluid and shallow groundwater around Dachaidan Lake and the carried boron-lithium flux. It is found that the contribution of deep hydrothermal fluid to the groundwater of Dachaidan Lake is less than 12%, but the contributions of boron and lithium have reached 60% and 70% of the total contribution, respectively. The research helps to understand the balance of lithium and boron in the salt lakes of the Qinghai-Tibet Plateau. This achievement was also funded by projects such as the Youth Promotion Association of the Chinese Academy of Sciences and the National Natural Science Foundation of China (41702268).
Full text link: https://doi.org/10.1016/j.jhydrol.2021.126313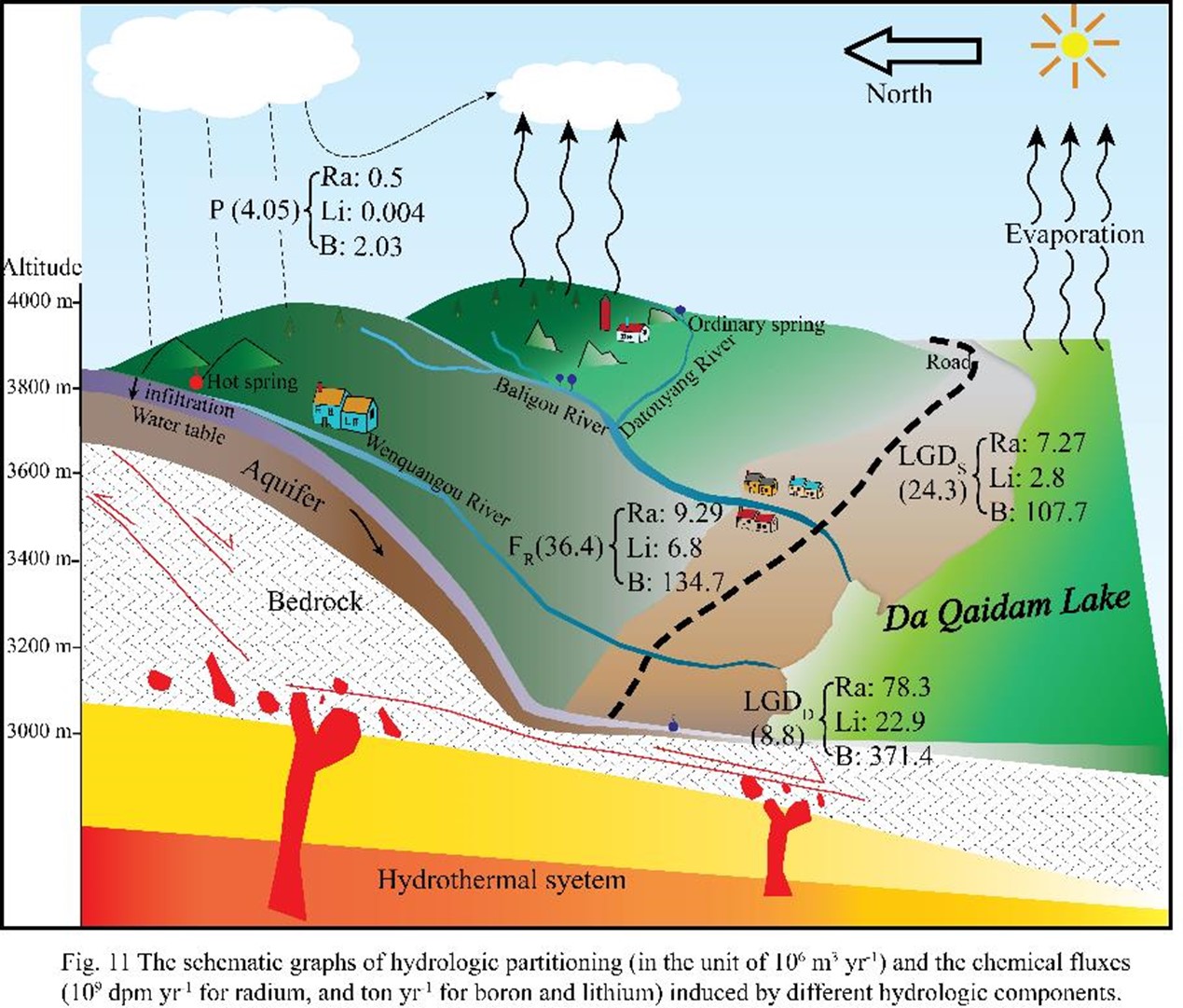 I