ISL has undertaken the task of the Salt Lake Special in the Second Comprehensive Scientific Investigation of the Tibetan Plateau. According to the arrangement of the scientific research tasks, on December 21, 2019, Associate Professor Xu Jianxin led the scientific research team to begin a systematic scientific investigation of the main lakes in the Kekesili area. A total of 10 members of the scientific expedition entered the Kekexili area from Wudaoliang and Erdaogou in Qinghai Province. The scientific expedition lasted for 22 days. The expedition members overcame all difficulties in the extreme environment of high altitude, extreme cold, and hypoxia in the Kekexili area, and successfully completed the scientific expedition. This scientific expedition totaled more than 5,600 kilometers.
This scientific expedition mainly surveyed 14 large and medium-sized lakes in the Kekesili area, including Gouluohu Lake, Trash Lake, Ulan Wula Lake, Mingjing Lake, Xijin Ulan Lake, Zhuonai Lake, Taiyang Lake, Lexian Wudan Lake, Kokosiri Lake, Koko Lake, Kusai Lake, Hedingor Lake, Xinsheng Lake, and Xiaoyan Lake. The physical and chemical parameters of lake water (including: pH, dissolved oxygen, conductivity, salinity, redox potential, atmospheric pressure, water temperature and other indicators) were measured in the wild; the samples of lake water and some lake bottom sediments were collected, the samples were collected from loose sediments, sedimentary and volcanic rocks and boiling springs on the lake shore. This expedition also collected for the first time microbiological samples of lake water in extreme environments.
It can be found from the obtained lake water salinity value that the lake water body in this area has a tendency to desalination. This is consistent with the changes in snow and ice melting and precipitation that have increased significantly in recent years due to the warm and humid climate of the Tibetan Plateau. At the same time, the expedition team also found that the lake water area of Kusai Lake, Heddingnor Lake, and Xinsheng Lake was significantly increased due to the leakage of Zhuonai Lake, and the three lakes were almost connected together. The eco-environmental effects brought about by such changing trends in the Kekesili Salt Lake still need further monitoring and analysis.
Compared with the results of the Basic Special Project of Ministry of Science and Technology "Special Survey of Changes in China's Salt Lake Resources" undertaken by ISL five years ago, this survey also obtained some of the latest data on changes in lakes in the Kekesili area. This has a very positive effect on understanding the changes in modern salt lakes with no (or less) human intervention in the context of climate change.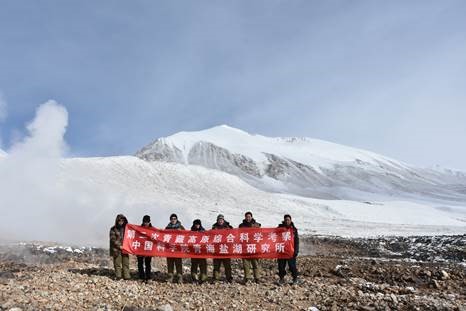 The expedition team members took a group photo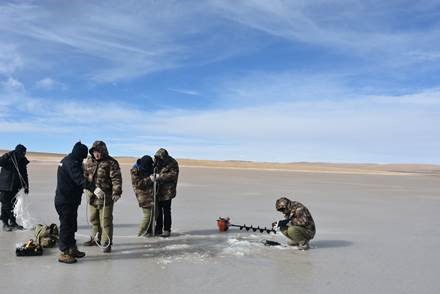 Determining of various parameters in lake water
Collecting sediment samples from the bottom of Wudan Lake in Lexian