On July 16th, the 28th "Salt Lake Science and Technology Forum" was held in the conference room on the sixth floor. Professor Wang Xiaodong from Beijing University of Chemical Technology and Professor Cui Xiuguo from Beijing Institute of Petrochemical Technology were invited to give a lecture. The forum was hosted by researcher Wang Min, director of the Salt Lake Resources Chemistry Laboratory.
Professor Wang Xiaodong gave a report titled "Diversified Design and Construction of Dual-Core Phase Change Materials Microcapsules". The report first expounds the research background of phase change materials, and introduces the storage methods, classification, research progress and application of phase change materials.In view of the shortcomings of solid-liquid phase change energy storage materials, such as easy leakage and low recycling rate, Professor Wang's research group used a variety of inorganic and organic materials to coat phase change materials to prepare various types of bifunctional phase transitions. The material microcapsule protects the substrate by the microcapsule encapsulation technology, which improves the performance of the phase change material. Finally, the report looks forward to the development direction of phase change material technology.
Professor Cui Xiuguo made a report entitled "Preparation of Black Phosphorus (Black Phosphene) and Its Application in Ion Batteries". Professor Cui first pointed out that black phosphorus (ene) is one of the best performance negative electrode materials, and introduced the preparation methods of black phosphorus and black phosphorus. The report indicates that black phosphorus olefin materials have great application potential and performance advantages in the field of energy storage, and it is expected to become a negative electrode material for lithium ion batteries with excellent performance, and introduce lithium ion batteries and sodium ion batteries with black phosphorus olefin as anode material. The report also forecasts the research trends and industrialization prospects of black phosphorus (ene).
During the interactive session of the forum, the rapporteurs and participants discussed and exchanged relevant content. The Salt Lake Science and Technology Forum has provided scientific research personnel with a multi-disciplinary academic exchange platform, which has deepened the understanding of researchers in different disciplines and broadened the academic horizons of researchers.
Professor Wang Xiaodong made a report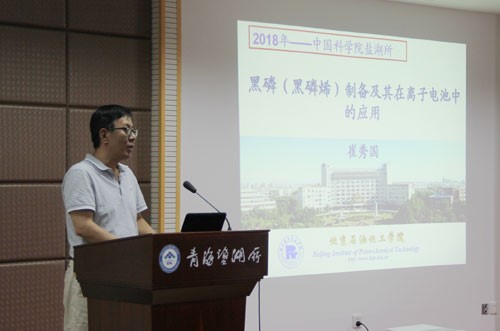 Professor Cui Xiuguo made a report