On June 19, Professor Gao Shuji, State Key Laboratory of Offshore Marine Science, Xiamen University, and Liu Weiguo, Researcher of the State Key Laboratory of Loess and Quaternary Geology, Institute of Earth Environment, Chinese Academy of Sciences, were invited to give an academic report. Professor Wang Jianping, the director of the Salt Lake Geology and Environment Laboratory, presided over the academic report.
Professor Gao Shuji's report titled "Isotope Perspectives on the Source and Sink Patterns of Carbon and Nitrogen in the Marginal Sea of the Western Pacific Ocean". Professor Gao reported the use of carbon and nitrogen isotopes as a means to analyze the migration and transformation of carbon and nitrogen in soil-river-reservoir-lake-undersea canyons from the perspective of source to sink, taking Taiwan and the western Pacific marginal sea as research areas. It also introduced that the land-sea interface accounts for less than 10% of the global ocean area, but it has buried more than 90% of the global ocean organic carbon flux. It is the most important carbon sink in the ocean except carbonate deposition. Alpine islands account for less than 3% of the land area, but contribute ~33% of the amount of sediment transported into the sea sediments and POC / PN flux, is a natural test site to study the carbon and nitrogen balance of the land and sea interface.
Researcher Liu Weiguo's report titled "Carbon and Hydrocarbon Isotope Geochemistry of Qinghai Lake". Mr. Liu gave a detailed introduction to the application of the geochemical method of carbon and hydrogen isotopes in Qinghai Lake. It is believed that the total organic carbon isotope of sediments in Qinghai Lake may reflect the lake water. The changes of lake aquatic communities caused by deep changes, endogenous organisms are the non-negligible part of the organic carbon source of Qinghai Lake. The study of strengthening the modern environment of lakes will greatly help to understand the significance of lake carbon cycle and climate indications.
After the report, the two professors answered the questions raised by the participants on the spot and conducted in-depth academic exchanges. Professor Wang Jianping summarized the report. She firstly thanked Professor Gao Shuji and Professor Liu Weiguo for their excellent reports, and expressed the hope that Professor Gao Shuji and Professor Liu Weiguo and their institutions could maintain long-term exchanges and cooperation with ISL in the future.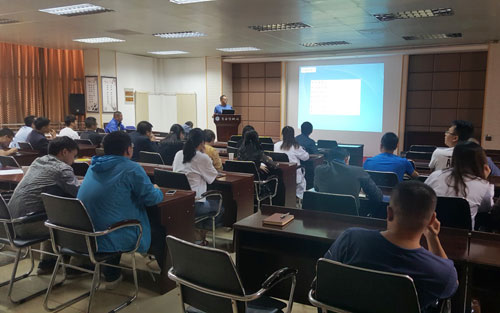 Professor Liu Weiguo made a report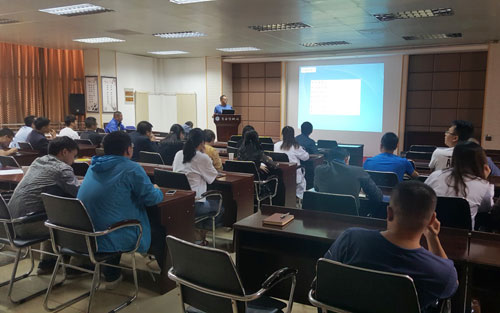 Professor Gao SHuji made a report
.