ISL Profs. MA Haizhou, ZHOU Yuan and Dr. WEN Xianming attended the 61st BHT mining and metallurgical research conference 'Resources of Mobility', held at Technische Universität Bergakademie Freiberg (TUBAF), Germany, June 9th through 11th, 2010, at the invitation of Prof. Wolfgang Voigt. Following this, they paid a visit to ERCOSPLAN Ingenieurgesellschaft GeotechniK und Bergbau mbH and a potash plant of DEUSA International GmbH at Bleicherode-Kehmstedt.
Technische Universität Bergakademie Freiberg (usually translated from German as Freiberg University of Mining and Technology or Freiberg Mining Academy, University of Technology and abbreviated TUBAF) is a renowned resource university with the longest education history of mining and metallurgy in the world. It has brought up plenty of international scientific and technical elites in relevant fields.
(Prof. Ma Haizhou giving a lecture. Photo by X. Wen)
Prof. Voigt, a prominent expert in phase chemistry and hydrometallurgy from the Institute of Inorganic Chemistry, TUBAF, chaired the third colloquium of Lithium for Li-Ion Batteries - Resources and Recovery. The event attracted quite a few scientists, and industrial experts from various institutions and companies all over the world, including Dr. Steffen Haber of Chemetall GmbH, Prof. Dr. Oscar Ballivian of University of La Paz, Dr.-Ing. Jaime Claros of University of Potosi, Prof. B. Friedrich of RWTH Aachen, etc. Prof. Ma gave a lecture titled Lithium Resources and Recovery in China, elaborating on the latest progress in extracting lithium from both mineral ores and brine resources. ISL's recent efforts in the exploration and utilization of salt resources were also presented to the audience.
Prof. Voigt visited ISL in 2009. The ISL attendance in the Freiberg conference represents one of ISL's persistent efforts in boosting international cooperation. ISL will further strengthen the cooperation with TUBAF in the field of lithium mining and metallurgy.
After the conference, the delegation visited ERCOSPLAN. The company showed their warm welcome and designated a couple of specialists including Mr. Ralf Linsenbarth, and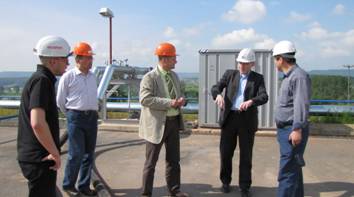 (Dr. van der Klauw elaborating on solution mining at DEUSA's carnallite facilities. Photo by X. Wen)
Dr. van der Klauw, to make presentations on the history of ERCOSPLAN and solution mining technology. Also, they arranged us a visit to DEUSA's potash plant, where the later company's CEO Michael Pfeiffer led us to have a brief view of their solution mining and carnallite processing facilities.
ERCOSPLAN is a leading engineering company with most modern know-how in the fields of potash and mineral salts covering the sectors exploration, mining, processing and environmental impacts. It has reference projects in almost any potash or salt producing country worldwide. ISL identifies the company as a potential cooperator in the field of potash mining and processing in its recent booming international projects. Through the visit, the institute has gained a broadened vision in the potash mining industry, which may significantly contribute to the progress of the Laos-based projects.